As a wedding photographer, I wear many hats. Thankfully, I love doing that! After all, wedding and engagement photography isn't just about showing up on the day and taking some photos. It's about talking to your clients, guiding them through the process, making them feel comfortable, and even talking to them about what to wear (and what not to). So, with that in mind, I'd like to talk you through what to wear for engagement photos and what not to wear.
Let's start with some outfit ideas!
Ten Outfits That Look Great For Engagement Photos
Here's a list of ten of my favorite outfits that work really well for what to wear for engagement photos:
A white dress always looks great.
Have a great casual outfit to change into (you could also add a hat for some extra fun)
Wear a long flowy dress!
Sweatpants anyone?
Jersey outfits are awesome choices.
Denim is another great option and adds a bit of a streetwear vibe to the occasion.
Neutral outfits look great for shoots in natural locations.
Add some extra flare to your outfits with sunglasses!
Please keep in mind if these options don't work for you, I'm always willing to help you figure out something that will. Just let me know!
How To Choose What To Wear For Engagement Photos
When it comes to working out what to wear for engagement photos, there are tons of things to keep in mind. I don't want to overwhelm you though, so here are my top tips for how to choose what to wear for engagement photos!
#1 – Consider The Location
My first tip is probably an obvious one, but it's definitely the best tip I can give as you plan your engagement photoshoot outfits. Before you decide what to wear for engagement photos, you need to give a little thought to the location. For example, is your photoshoot taking place in the mountains, in an exclusive hotel, or on the beach?
The outfit you choose NEEDS to suit the location you choose. You don't want to be all glammed up in a ballgown-style dress if your photoshoot is taking place at the top of a mountain, you know? The same goes for a beach location! You won't want to wear a flowy skirt or dress if the beach gets cold and windy.
My advice? I always recommend asking your photographer before deciding what to wear for engagement photos. They have experience you can use, and they understand what will or won't work at a certain location. Personally, I LOVE helping my clients with their outfit choices, especially if we're venturing to a destination I'm familiar with.
#2 – What's Your Engagement Photoshoot Theme?
An engagement photoshoot doesn't always have a theme, but for those of you who would like to add a specific theme to your engagement shoot, make sure your outfits match. For example, if you're going for a timeless theme, then have your outfits reflect that! 
#3 – Bring Extra Outfits
It's easy to overthink and overcomplicate what to wear for engagement photos, but you also don't want to feel self-conscious and nervous in front of the camera because you don't feel great about your outfit choice. That's why I always recommend bringing extra outfits to the shoot as Jordan and Kolton did for their Arizona engagement shoot. I loved how they mixed it up with the casual jeans look, then she swapped out for the shorter skirt, and then that awesome flowy dress! This couple really understood what to wear for engagement photos.
This is also a great idea in the event of bad weather. You just never know what's going to happen sometimes!
#4 – Don't Forget The Accessories
Some outfits look great without accessories, but some look absolutely AWESOME with that little extra something added in. Basically, accessories can also add a little fun and casual creativity to a shoot. For example, you could add a hat to your look or go with a cool set of sunglasses. Besides, if it's not working, I'll let you know. I'm not about to take photos that won't make you look good, after all!
#5 – Bring In Some Color
Minimal tone and neutral color outfits look great on couples whose photoshoots take place in a natural location, but having a pop of color never hurts either. The color just has to make sense for the shoot, but as I mentioned before, if you're having trouble figuring out what to wear for engagement photos, lean on your wedding photographer. We're ready and willing to help!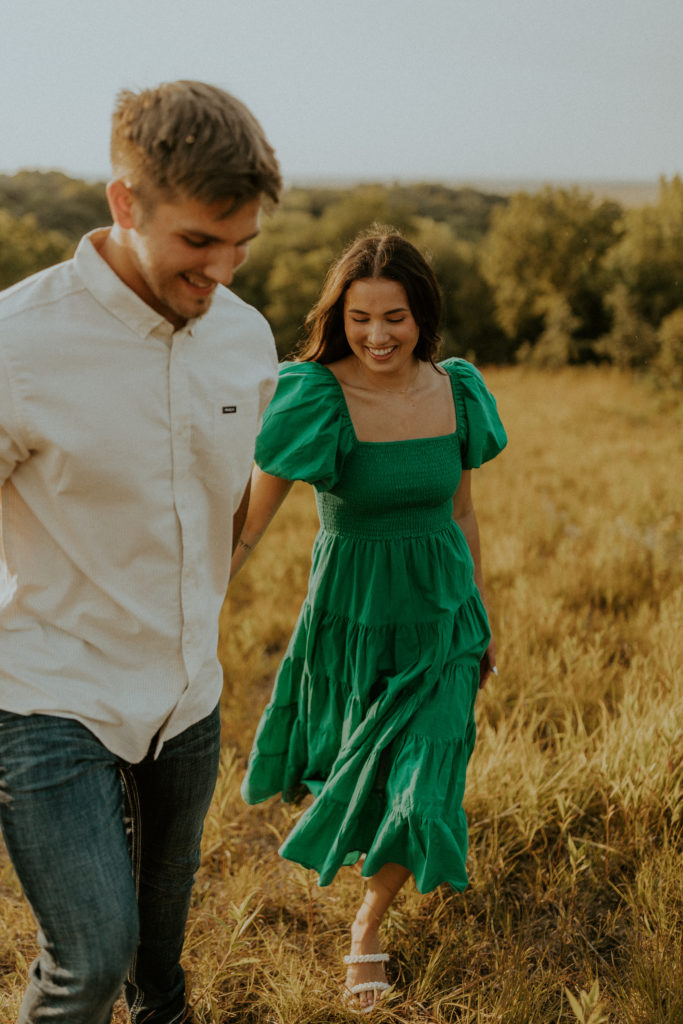 #6 – Check The Weather Forecast
I know it sounds simple, but the weather plays a BIG part in your decision about what to wear for engagement photos. For example, if there's a heat wave, you won't want to wear an outfit that shows off sweat patches.
You will also not want to be caught out in any storms or snow blizzards either. This is why I always advise clients to consider the location and the expected weather conditions before selecting what to wear for engagement photos.
#7 – Comfortable Engagement Outfits Work!
Another tip to help you figure out what to wear for engagement photos is this one: always choose comfort. Your engagement photos should reflect you as a couple. If that means hopping into a fun sweatpants outfit, showing off your favorite denim, or another look, then just go with it!
After all, when it comes to what to wear for engagement photos, it should always feel like it's you and not someone else in those photos!
#8 – Match Your Wedding
If you know the colors for your wedding, choosing what to wear for engagement photos becomes a whole lot easier! That's because you can just match what you wear for your engagement photos to your wedding colors. It all feels like it goes together in the end, and it'll look great!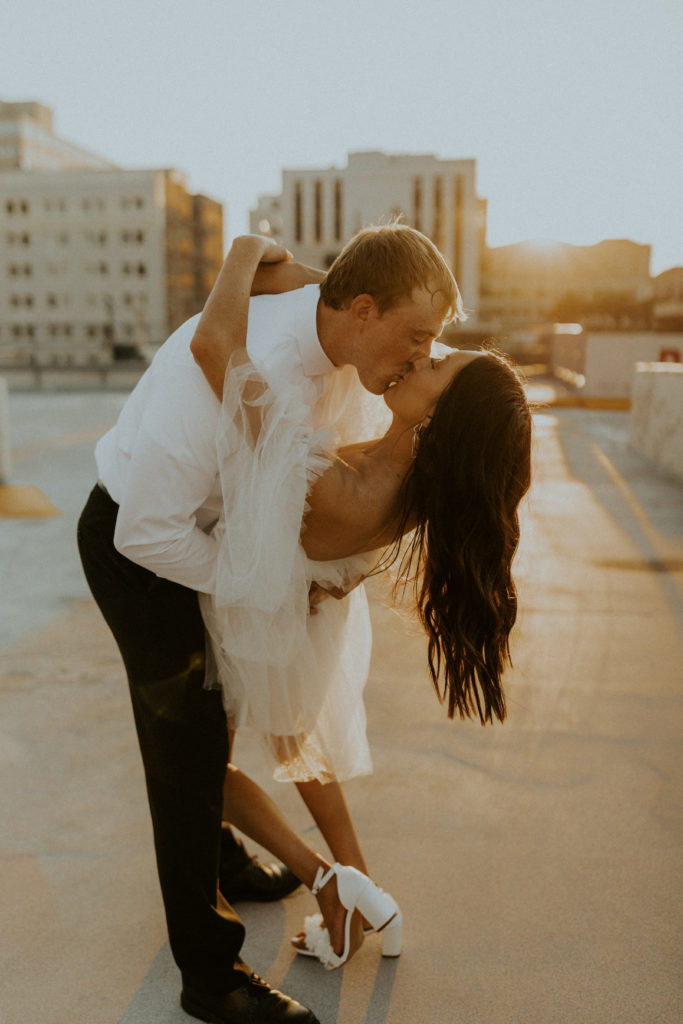 What To Be Careful Of For Engagement Photos
I just couldn't write this guide about what to wear for engagement photos without bringing your attention to what you definitely shouldn't wear to your engagement shoot.
As an experienced engagement and wedding photographer, I've captured my fair share of engagement shoots and seen tons of incredible and gorgeous engagement outfits, so I definitely know and understand what works and what doesn't.
So, here are my tips!
#1 – Something You're Not Comfortable With
I mentioned this a bit above, but I want to highlight it again here. Your outfit should reflect you. If it doesn't, don't wear it! And definitely don't feel pressured by trends or other things like that. You do you. You'll be happy you did later.
#2 – Something A Little Too Risqué
Some themes can work really well for engagement shoots, especially if they're fun and perfectly reflect your personality. For instance, a cowboy hat and boots can look awesome. But there are some themes that have the potential to ruin your images, especially if they're a little bit adventurous or over the top. You will not want to overkill a particular theme with provocative or seductive outfits that transition the photo shoot from a gorgeous editorial-style engagement shoot into something less classy.
#3 – Patterns
When it comes to planning what to wear for your engagement shoot, you should steer clear of outfits with clashing or overbearing crazy patterns.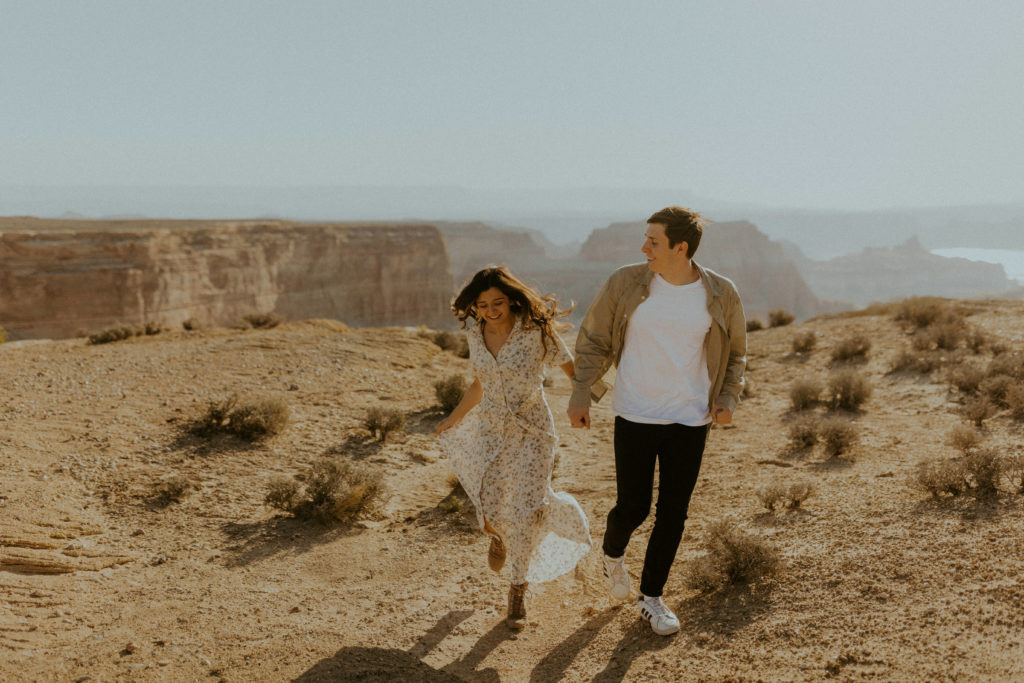 You'll also want to ensure that what you wear for engagement photos complements what your partner is wearing. Clashing patterns do not look good in images! In other words, if one person is wearing a pattern, that's okay just so long as the other person isn't wearing one.
#4 – An Outfit That Doesn't Match Your Skin Tone
You might've already considered this, but there are definitely some outfit colors that will not work with your skin tone.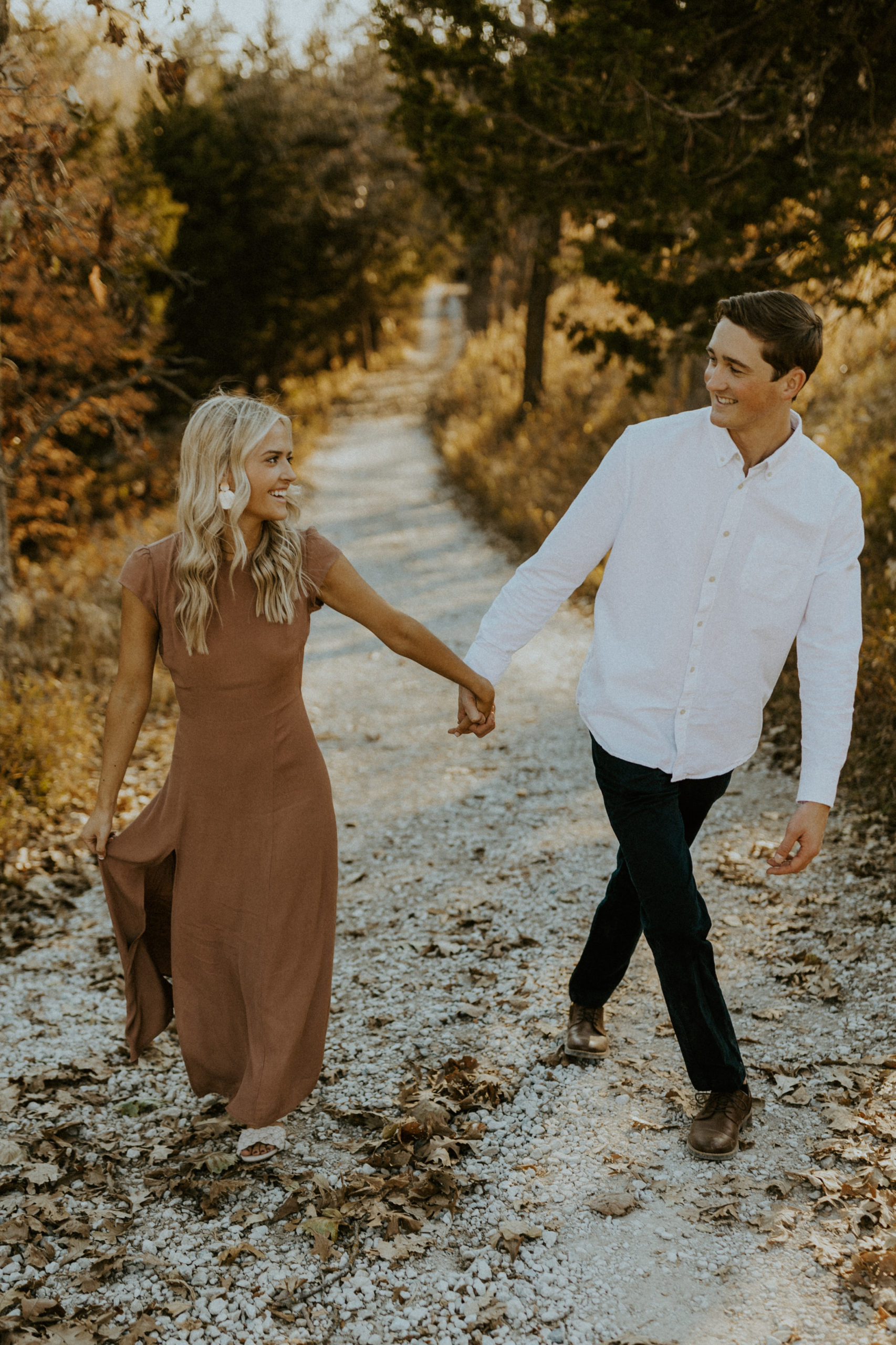 Unfortunately, no matter how well you do your makeup on the day, it will not help you look your best on camera with a clashing outfit. But the good news is a stylist or a wedding photographer can help you with this if you're not sure what to do!
#5 – Something You'll Never Wear Again
It's easy to go crazy and pick out a great outfit for your engagement shoot, but my advice is to find something you'd love to wear again even after your engagement session is over. Then you'll really be getting your money's worth!
Final Thoughts
When it comes to what to wear for engagement photos, there's a lot to consider, I know! But just remember you have help. I'm always willing to dive in and help my couples figure out what to wear for engagement photos. So, if you're in need of an engagement photographer and need a little bit of that help, let me know!
DID YOU ENJOY THIS BLOG POST? PIN IT FOR LATER…